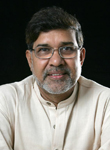 Kailash Satyarthi (1954- )
Awarded the Prize "for the struggle against the suppression of children and young people and for the right of all children to education."
Indian childrens rights activist. Born on January 11, 1954 in Madhya Pradesh, India. Has launched the "Save the Children Campaign" and create a "Global March Against Child-Labor", dedicated to the rescue of millions of the worlds enslaved children.