2015-Nobel Science Prize Exhibition
The opening ceremony of Nobel Science Prize Exhibition organized by Xinjiang Markit County People's Government and supported by Shanghai Qinghe Culture Communications Co. Ltd. was held successfully at Dolan Exhibition Hall in Markit World Peace Park. Famous academicians from Chinese Academy of Sciences and Chinese Academy of Engineering namely Chen Jihsheng, Qin boyi, Tang Xican, Qi Faren, Teng Jiwen, Wang Jiyang, Sun Handong, Chen Jing, Huang Qili and Yan Jia'an participated in the opening and ribbon-cutting ceremony. About 600 pieces of signed photos, inscriptions and postal items from 182 Nobel Prize Laureates in physics, chemistry, physiology & medicine and economy were exhibited during the exhibition. And signed photo, inscription, postal items from Mr. Moyan, 2012 Nobel literature prize laureate were showed as well.
Nobel Science Prize Exhibition is one of the series events of 2015 Academician Forum and 60 forum VIPs participated in the opening ceremony Markit County Postal Bureau specially published a memorial chop for this exhibition.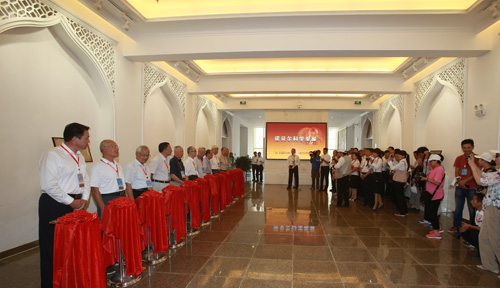 Ribbon Cutting for Nobel Science Prize Exhibition by academicians from CAS & CAE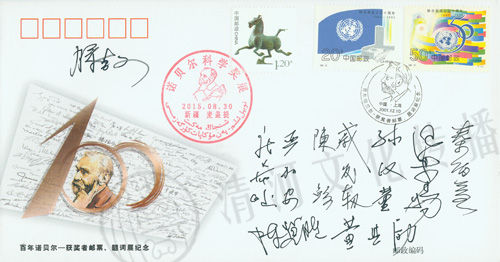 10 academicians signed on the envelop with memorial chop specially for Nobel Science Prize Exhibition